Corporate Credit Cards
Higher Limits
No Interest
Tech
For...
No Fees
Get Started Today & Speak With An Advisor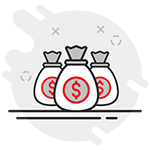 Resources & Frequently Asked Questions
Where Can I Use My Corporate Credit Card?
Corporate credit card holders are able to use their corporate credit card wherever Mastercard and Visa are accepted, spanning across millions of vendors across 200 countries.
How Much Does A Corporate Credit Card Cost?
Our corporate credit card has no hidden fees and uses a simple pricing structure. Please speak with one of our financial advisors to discuss your pricing.
Why Switch To A Corporate Credit Card?
The corporate credit card is a great resource as you and your business grow. It makes accounting, budgeting your business, and managing your expenses simple and streamlined. Instead of a paper based application that can take over 30 days overall, a corporate credit card offers an online application that is fast and simple.
Why Should I Use A Corporate Credit Card Instead Of My Debit Card?
A corporate credit card offers another layer of security to protect your finances, it also offers fraud protection, and expense management. When using a debit card, anyone holding that card has access to the cash it holds. A corporate credit card allows you to provide employees with their own corporate credit card, but gives the business owner the ability to set spending limits and monitor spending.

Another perk is the ability to gain reward points to cash in for a variety of prizes!
Will Applying For A Corporate Credit Card Hurt My Credit Score?
No. Whether your application is approved or rejected, applying will not hurt your credit score.
Can I Build My Credit Using A Corporate Credit Card?
Yes, you can! We have teamed up with Experian and Dun & Bradstreet to report your company's on-time payment history.
How Do You Protect Me From Fraud?
Your corporate credit card provides you with full protection from unauthorized transactions. Our team, based in the US, is available via phone, email, and live chat to assist you on all related matters and any issues that may come up.

If you report an unauthorized transaction, our team automatically suspends your card to prevent any additional unauthorized transactions or fraudulent behavior. You will be issued a new card and credited for all transactions that you do not authorize, this usually takes 5-10 business days.
Are Corporate Credit Cards Available On Other Networks?
Yes, this corporate credit card is in the MasterCard network, accepted in 200 countries worldwide without any foreign fees. If requested, we may issue a card within the Visa network. Please inquire with your financial advisor if this is something you are interested in.
How Are Corporate Credit Cards Tracked Differently?
The simplest way is to download the app! After doing so, you can take pictures of your receipts to track them, adding memos, and they will automatically be matched to your expenses reflected in your statements.
How Will This Corporate Credit Card Save Me Time?
Your corporate credit card will greatly reduce the time you spend managing your expenses, typically by 50% or more!
Can I Carry A Balance On My Corporate Credit Card?
No. Your corporate credit card balance must be paid back at the end of each statement period.
How Long Is A Statement Period?
Each statement period is 30 days long.
Your business checking account is automatically debited when your payment is due. This provides you with hassle free payment and helps you avoid any late payments, helping build your credit.
What Is The Underwriting Process For My Corporate Credit Card?
Many factors are considered that are relevant to your business, such as your cash balance, spending patterns, if you have investors, and then, your limits are set accordingly.
What Rewards Are Offered?
There is an extensive and valuable rewards program for business startups. You are provided a combination of partner offers, rewards points, airline miles conversion for travel, and access to a travel portal.
Simple 15-Second Business Loan Application
After completing this simple application, we'll pair your with a dedicated Business Financing Advisor to choose the best financing options for your business!
Our goal is to help get businesses back to business by providing the best small business and commercial lending options available today. Our streamlined processes and strong relationships allow us to process hundreds of transactions/month resulting in hundreds of millions of dollars distributed to small businesses, nationwide on a monthly basis.
Monday - Saturday
8:00 A.M. - 6:00 P.M. (EST)
Closed on Sunday
3500 Sunrise Hwy
Building 100 Suite 201
Great River, NY 11739
Our Team Is Ready To Help!
Subscribe To ROK Newsletter