Small Business Loans
Same Day Funding
6 Months - 10 Year Terms
Restaurants
For...
$10,000 to $5 Million
Get Started Today & Speak With An Advisor
Our simple 15 second online application can get you matched with offers in minutes.
Bad credit? No problem! Most of our top financing options have no minimum FICO.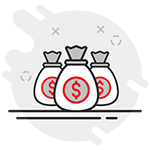 Get matched with the best financing options with the highest funding amount.
Our Fintech Speed can get you in and out of Underwriting in just a few hours, and same day funding!
Easy 15-second application to get options in just minutes and funding in hours!
Resources & Frequently Asked Questions
What is a Small Business Loan?
Small Business loans are a type of funding you receive from lenders and traditional banking institutions that support entrepreneurs to stabilize their operations. You technically do not have to be a "small" to qualify for a small business loan. Different types of small business financing options exist and are available through alternative lenders, banks, and government sectors.
How to get a Small Business Loan
Get Started & Apply Online Now

There are no requirements to apply. To qualify for financing options, you may need to meet the requirements set by the lenders. Please speak with one of our Business Financing Advisors today to learn more about your options.

How to Build a personal credit rating

Lenders will go as far as analyzing your personal credit rating. They use the score to determine if they should lend you money, and if so, how much, and at what interest rate. Individual creditworthiness is enough for them to know your repayment reliability. To build your credit rating, it is important to understand your credit utilization, keeping it typically below 30% of available credit. As well as building a strong credit history with on time payments.

Note the lenders requirement

You need to understand what the lenders want in terms of minimum requirements. Some financial lenders may prove flexible by looking at the minimum in terms of credit score, the number of years in business, and annual revenue.
Generally, small business loans from banks may ask for a minimum of 640 in credit score. However, when applying for the loan, they insist you need a score of 700 and above. Typically, the best lenders for small businesses are alternative lenders. These alternative lending institutions do not offer stringiest rules, tons of documentation, and their minimum credit score is usually lower than traditional banks.

Gather required documents

After determining you are ready to apply for a small business loan, gather all the legal and personal documents to complete the paperwork application. This may include proof of ownership, bank statements, tax returns, and other documents depending on the type of financing.
How do Small Business Loans work?
Small business loans provide access to funds to help business owners operate their businesses. Lenders will provide business owners a lump sum of money to be utilized for their business. The small business loan must be paid back over a set period of time with interest.  
There are multiple types of small business loans available. The option you choose should be based on long or short term need, and the financial health of your business. 
To learn more about how small business loans work and how it will affect your business, complete our 15-second online application to speak with a business financing advisor. 
Types of Small Business Loans
Here are some of the various small business loans you can choose from, depending on your business's needs:

Small business line of credit
Invoice financing
Working capital loans
Equipment financing
Term loans
SBA Small business loans

There are many types of small business loans to consider when looking for the right financing for your business. To learn more complete our 15-second online application and speak with a business financing advisor to learn more.
How To Get a Small Business Loan With Bad Credit?
When trying to obtain a small business loan with bad credit it's important to check your credit score by obtaining a free credit report. It's important to review your credit report to determine any inaccuracies, and reach out to the credit bureaus to dispute any incorrect information. 
Research your options, and understand what types of financing programs you may or may not be eligible for based on your credit. Unlike traditional banks, there are alternative lenders on the market that have programs for all types of credit profiles. Don't be discouraged by your credit score, you may still qualify for specific products and programs though alternative sources. 
To learn more about getting a small business loan with bad credit, complete our 15-second application and speak with a business financing advisor who will provide insight if a small business loan is right for you and your business.
Simple 15-Second Business Loan Application
After completing this simple application, we'll pair your with a dedicated Credit Plug Advisor to choose the best financing options for your business!